Start leveraging your strengths and create big opportunities in crowded markets.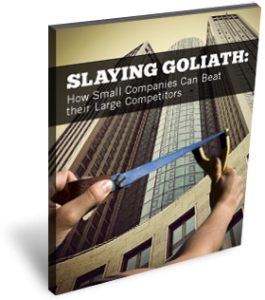 You may know the story of David and Goliath, but do you have a clear understanding of how your small company can compete and win against your large competitors?
Utilizing the right strategies will force larger competitors to respond to you, rather than the other way around. That in turn will put you in a position to create opportunities in crowded markets that might have otherwise seemed impossible to grasp. These powerful insights will teach you to:
Understand and leverage your own strengths
Identify and exploit your competitors' weaknesses
Successfully defend against their attacks
Execute against your goals better — and faster — than the biggest businesses
Bonus offering: When you get the eBook you'll also automatically receive OpenView's weekly newsletter which includes tips and tricks to help you build and scale a great company.