Identify and prioritize the best channels for customer acquisition and engagement.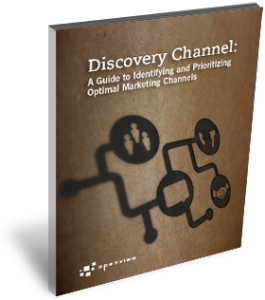 This eBook provides a high-level overview of a marketing channel selection process for expansion-stage companies. It is intended for senior executives and project managers to make sense of the wide and complex range of marketing channels that help bring their message to their customers and pinpoint the ones that are most effective at engaging those customers.
Those insights will allow your company to strike the right mix of marketing channels and optimize your marketing dollars so that they have maximum impact. Other benefits of identifying and prioritizing marketing channel, include:
Helping to develop finely tuned annual marketing plans
Improving tracking and benchmarking
Gaining insights into competitors' marketing strategies
Knowing who to hire for future needs
Setting more realistic goals
Bonus offering: When you get the eBook you'll also automatically receive OpenView's weekly newsletter which includes tips and tricks to help you build and scale a great company.